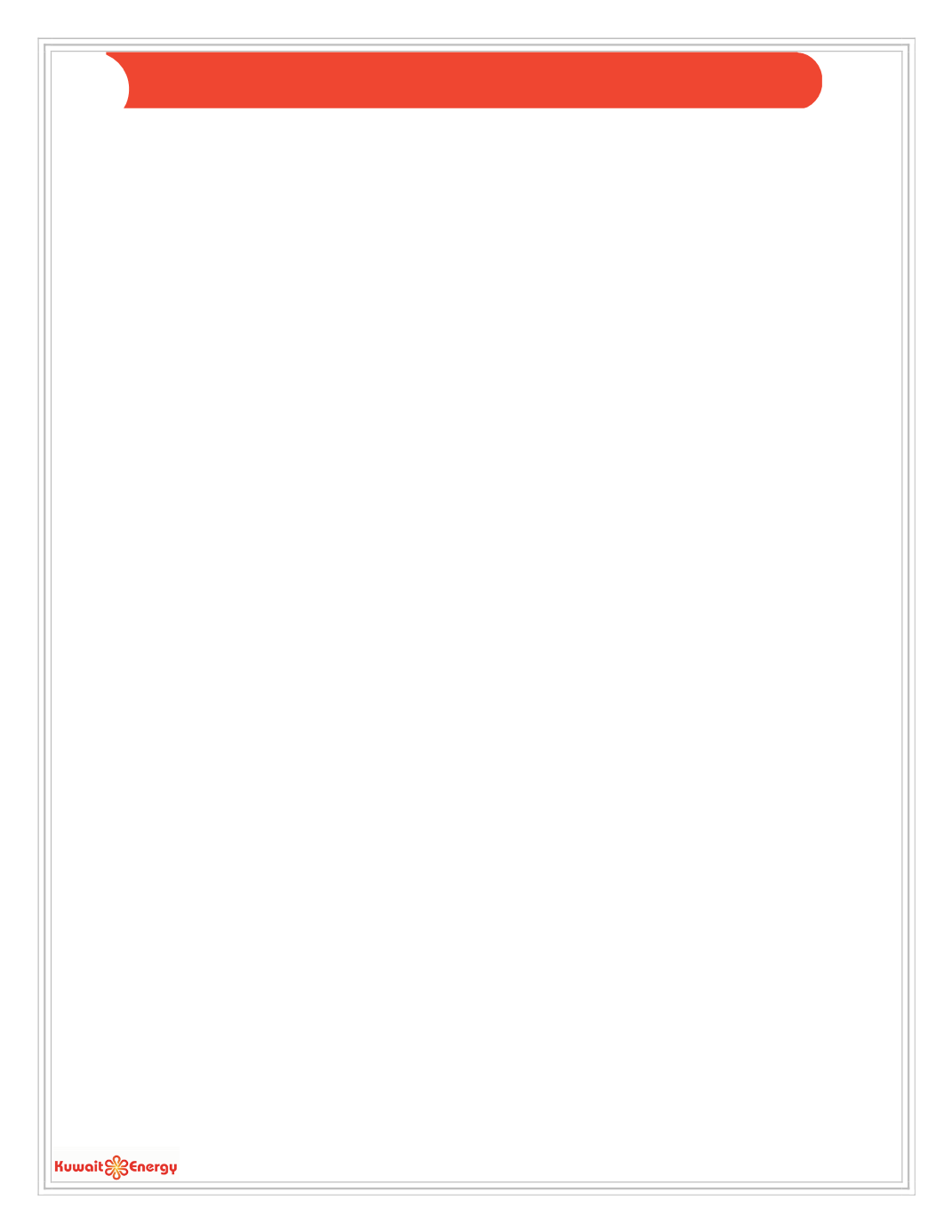 1
Who We Are
Kuwait Energy
(the "Company")
is an independent oil and gas company actively engaged in the exploration,
appraisal, development and production of hydrocarbons. Since establishment in 2005, we have built a high-quality,
diversified portfolio of oil and gas assets in the MENA region across Iraq, Egypt, Yemen and Oman. Our MENA
portfolio consists of 10 exploration, development and production assets, of which we operate seven.
Kuwait Energy
has its registered office in Jersey, its head office in Bahrain, its regional operational hub in Kuwait and
area offices in Basra, Baghdad, Cairo and Sana'a.
2017 Key Highlights
•
Two incidents
categorised as a
recordable Lost Time Incident
("LTI") took place in 2017 within
Kuwait
Energy's
operated concessions.
•
Average daily WI production
for the year is
26,819 boepd.
The total WI production volume
for the year
stands at
9.8 mmboe.
•
At
Block 9
(Iraq)
, Kuwait Energy
completed the drilling of two wells (Faihaa-3 and Faihaa-4) whilst
spudding a third well (Faihaa-5)
. Production from the completed
Faihaa-4 well began in early February
2018;
whilst
Faihaa-5 is expected to be online in Q2 2018
.
•
Siba
(Iraq), the Company on 1 November 2017 signed a drilling contract for 4 new production wells with
the oilfield services firm
Schlumberger
. The additional wells are scheduled to be drilled and completed in
2018 and are necessary to allow the concession to reach the gas production plateau of
100 mmscfd
. Initial
gas production at
Siba
(of
25 mmscfd
) is
scheduled to commence towards the end of 1H 2018
.
•
In Basra (Iraq)
,
2017 saw
Kuwait Energy being assigned
by
the Iraqi State Oil Marketing Company ("SOMO")
crude cargo shipments totalling 1.2 mmbbls
(
Kuwait Energy's
share) of Basra Light - with a
total value of
approximately US$60m
. These crude payments going forward are expected to increase as the Company's
Iraqi production increases in 2018 and beyond. The Company anticipates it will receive its
next Iraqi crude
cargo payment of approximately 0.8 mmbbls
in Q1 2018
.
•
In Cairo (Egypt), on 9 September 2017
Kuwait Energy
finalised the
farm-out of 25% of its shares in the Abu
Sennan (Egypt) concession to a new partner - GlobalConnect
.
Kuwait Energy
by the year-end holds a 25%
revenue interest in the concession and remains the operator of the
Abu Sennan
concession.
•
Operations in 2017 remained on hold at both
Mansuriya
(Iraq) and
Yemen
.
A
T
A G
LANCE