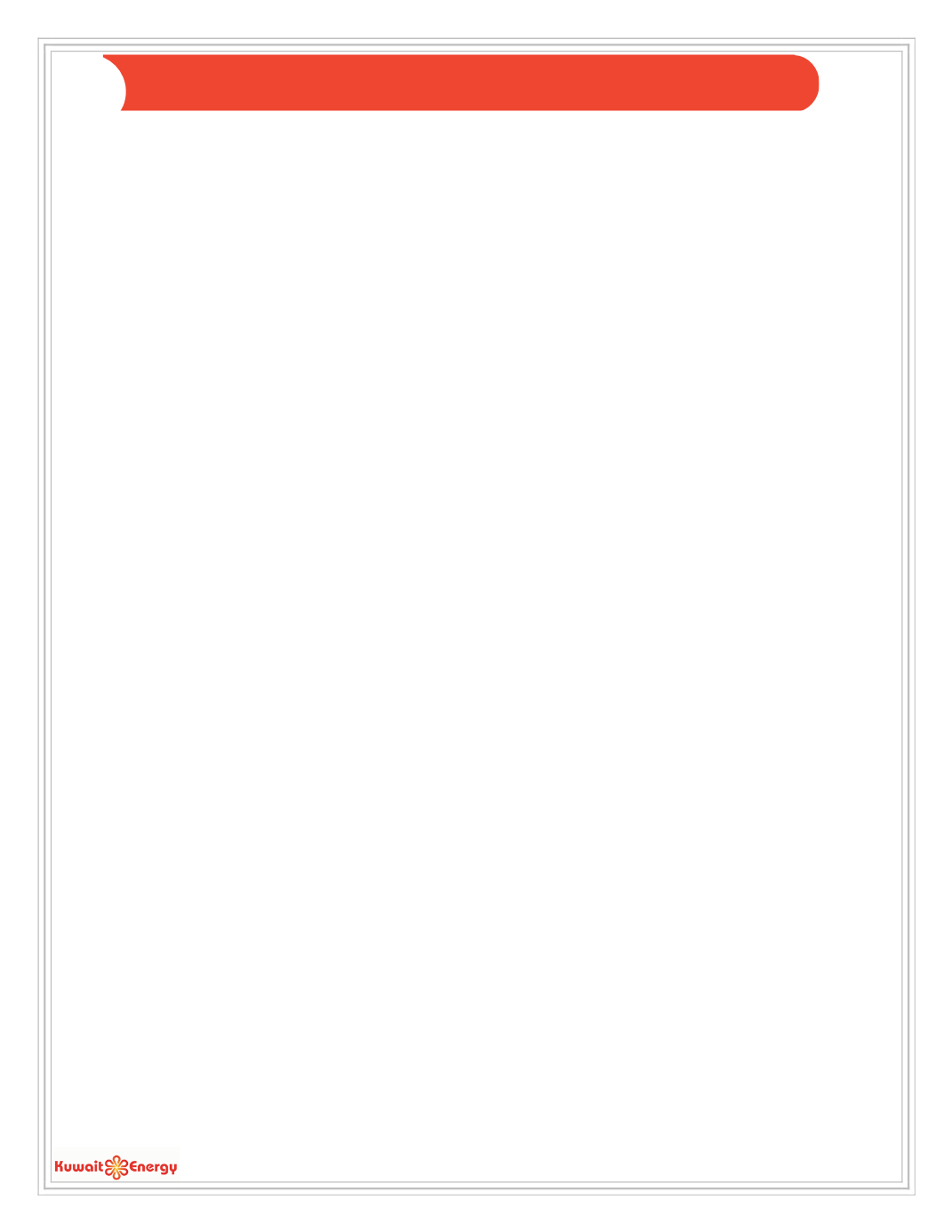 8
Operations
Kuwait Energy
continues to
focus on the MENA region
with a direct presence in Iraq, Egypt, Yemen and Oman.
A key milestone for the Company in 2018 will be the
Siba
(Iraq) gas plant coming online. Commercial production is
anticipated to commence towards the end of 1H 2018. Once online,
the
Siba
gas plant
is expected to initially
process
25 mmscfd of gas (Gross)
. The Company now has an agreement with Schlumberger to drill an additional 4 wells at
the
Siba
field. After completion of the Schlumberger drilling program, production at the concession is expected to
ramp up to the
plateau gas rate of 100 mmscfd in 2019
. In addition to the
Siba
gas production, the facilities will also
process associated condensate which is expected to yield an
extra
15,000 boepd (Gross)
when gas production
reaches the plateau rate
.
In
Block 9 (Iraq), the Faihaa-5 well
spudded on 14 November 2017 is anticipated to
begin commercial production
in Q2 2018; currently, the drilling programme at Faihaa-5 is approximately 70% complete.
The Company also plans
to spud the
Faihaa-6 well
in
Q2 2018
. With the
completion of Faihaa-6,
the Company should be producing an
estimated 30,000 boepd (Gross)
from the concession.
The Block 9 full Field Development Plan is scheduled to be
submitted
to the Iraqi authorities for approval
within the next 12 months
, once approved the Company can begin
the next phase of Block 9's development
and the ramp up of production.
The
Siba production start-up
as well as
the increasing Block 9 production
will have a significant and positive impact
on the Company's future cash flows. Currently, the Company is taking receipt of Iraqi
crude payments of about 0.8
mmbbls in size - with the next crude shipment due in Q1 2018.
In
Egypt
,
Kuwait Energy
will continue its
well management and work over program
to optimize production from its
mature assets; whilst also potentially adding to Egyptian reserves and production via its
exploration program
, which
has historically yielded a
50% success rate.
In
Yemen
,
Kuwait Energy
continues to monitor the situation and is
operationally-ready to
commence production
when the situation permits.
Sustainability
As part of our HSSE efforts,
Kuwait Energy
continues to apply the leading HSSE auditing programs; as shown by
Egypt's Area A and Cairo Office's
renewal of their ISO 14001 and OHSAS 18001 certifications - now valid until April
2018
.
O
UTLOOK