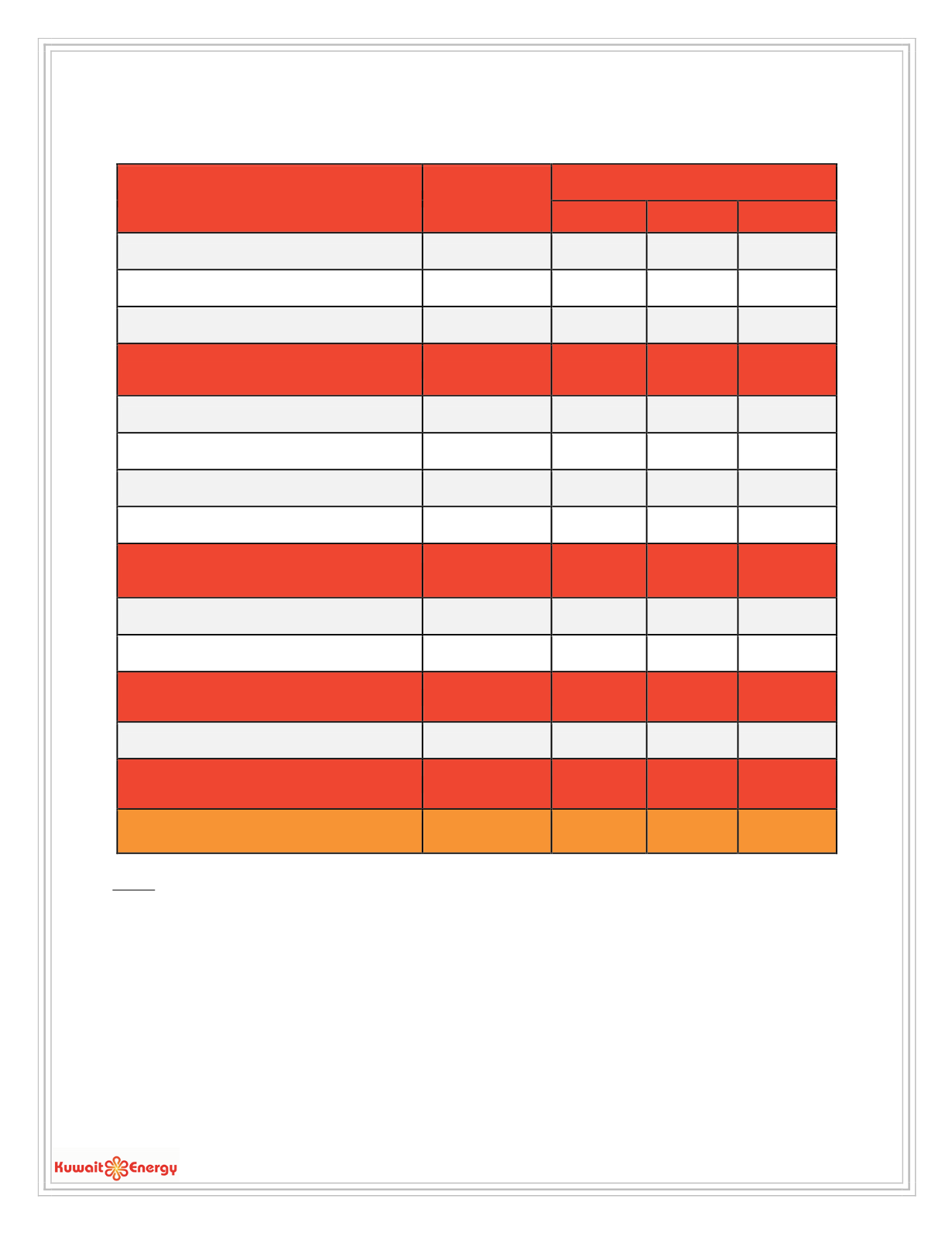 `
7
Detailed Reserves & Resources by Asset
Asset
Country
WI Reserves and Resources
(mmboe)
1P
2P
2C
Block 9
Iraq
255.5
687.7
975.9
Siba
Iraq
18.2
36.9
10.5
Mansuriya
(
see notes
)
Iraq
41.7
51.9
19.3
Iraq Total
Iraq
315.4
776.6
1,005.6
Abu Sennan
Egypt
0.2
2.6
-
Burg El Arab
Egypt
0.3
6.0
13.9
Area A
Egypt
2.7
11.6
1.7
East Ras Qattara
Egypt
5.0
6.9
2.4
Egypt Total
Egypt
8.2
27.2
18.0
Block 5
Yemen
4.6
6.2
4.4
Block 49
Yemen
-
-
11.7
Yemen Total
Yemen
4.6
6.2
16.1
Karim Small Fields
Oman
-
-
-
Oman Total
Oman
-
-
-
Total
328.2
810.0
1,039.7
Notes:
•
Audited figures by GCA as of 31 December 2016.
•
Excludes
KSF
, Oman which cannot be included in external reserves reporting as per the service contract.
•
Totals may not exactly equal the sum of the individual entries due to rounding to nearest whole number.
•
25% working interest in
Abu Sennan
, Egypt, was farmed out to GlobalConnect effective 31 December 2016.
•
The Company in Q4 2017 conducted an internal review of its reserves and resources and as such has decided
to reclassify all of its
Mansuriya
reserves as contingent resources.