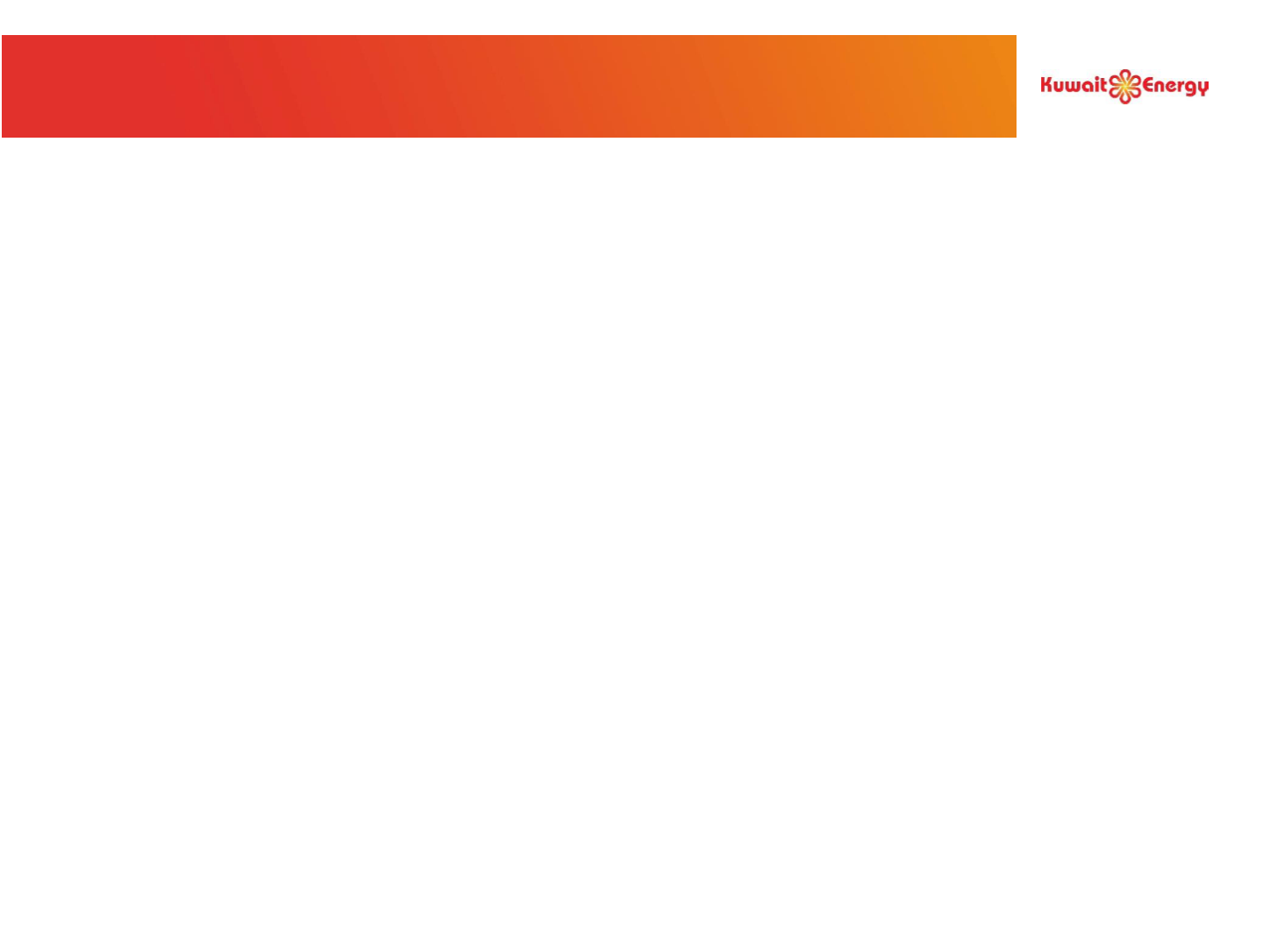 Disclaimer
1
This document and all material contained herein are subject to correction, update and change, and are strictly not to be relied upon for any purpose whatsoever. This document does
not constitute a recommendation regarding any loans or securities of Kuwait Energy plc (the "Company") or any of its subsidiaries or joint venture companies.
No representation, warranty, or undertaking, express or implied, is made by the Company, its affiliates or their respective directors, officers, employees, agents or advisers as to, and
no reliance should be placed on, the fairness, accuracy, completeness or correctness of the information or the opinions contained in this document, for any purpose whatsoever,
including but not limited to any investment considerations. Neither the Company nor any of its advisers or representatives shall have any responsibility or liability whatsoever (for
negligence or otherwise) for any loss howsoever arising from any use of this document or its contents or for any errors or omissions. This document includes market share and
industry data obtained by the Company from industry publications and surveys and internal surveys. The Company may not have access to the facts and assumptions underlying the
numerical data, market data and other information extracted from publicly available sources. As a result, neither the Company nor any of its advisers or representatives are able to
verify such numerical data, market data and other information and assume no responsibility for the correctness or completeness of any market share or industry data or other
information included in this document.
All information in this document is subject to updating, revision, verification, correction, completion, amendment and may change materially and without notice. None of the
Company or its affiliates, agents or advisers undertakes any obligation to update this document or to correct any inaccuracies in any such information. The information contained in
this document should be considered in the context of the circumstances prevailing at the time and has not been, and will not be, updated to reflect material developments which
may occur after the date of this document.
Matters discussed in this document may constitute or include forward-looking statements. Forward-looking statements are statements that are not historical facts and may be
identified by words such as "believes", "expects", "anticipates", "intends", "estimates", "will", "may", "continues", "should" and similar expressions. These forward-looking
statements reflect, at the time made, the Company's beliefs, intentions and current expectations concerning, among other things, the Company's results of operations, financial
condition, liquidity, prospects, growth and strategies. Forward-looking statements include statements regarding: objectives, goals, strategies, outlook and growth prospects; future
plans, events or performance and potential for future growth; liquidity, capital resources and capital expenditures; economic outlook and industry trends; developments of the
Company's markets; the impact of regulatory initiatives; and the strength of the Company's competitors.
Forward-looking statements involve risks and uncertainties because they relate to events and depend on circumstances that may or may not occur in the future. The forward-looking
statements in this document are based upon various assumptions, many of which are based, in turn, upon further assumptions, including without limitation, management's
examination of historical operating trends, data contained in the Company's records (and those of its affiliates) and other data available from third parties. Although the Company
believes that these assumptions were reasonable when made, these assumptions are inherently subject to significant known and unknown risks, uncertainties, contingencies and
other important factors which are difficult or impossible to predict and are beyond its control. Forward-looking statements are not guarantees of future performance and such risks,
uncertainties, contingencies and other important factors could cause the actual results of operations, financial condition and liquidity of the Company and its affiliates or the industry
to differ materially from those results expressed or implied in this document by such forward-looking statements. No representation is made that any of these forward-looking
statements or forecasts will come to pass or that any forecast result will be achieved and you are cautioned not to place any undue influence on any forward-looking statement. Past
performance should not be taken as an indication or guarantee of future results, and no representation or warranty, express or implied, is made regarding future performance.
This document and the information contained herein do not constitute or form a part of, and should not be construed as, an offer for sale or subscription of or solicitation or
invitation of any offer to subscribe for or purchase any loans or securities of the Company or any of its subsidiaries or joint venture companies in any jurisdiction and none of this
document or anything contained herein shall form the basis of, or be relied on in connection with, any offer or commitment whatsoever.
Estimates of reserves and resources are inherently speculative and involve numerous uncertainties. The reserves, contingent resources and prospective resources estimates
contained in this document are all audited by Gaffney Cline Associates ("GCA") for the purpose of providing estimates as of 31 December 2016. The production figures are based on
YE 2017, and the Financial figures are based on our last issued consolidated financial report and are reflective of YTD-Sept 2017 results.